[Creepy Halloween Facebook Event] Winner Announcements!
03.11.23



THE ARCHANGEL CALLS UPON YOU ONCE MORE,
Hello, Warriors!

We thank all the warriors who participated in the [Facebook Event - Creepy Halloween],
and we will be announcing the winners of the event as well as the date awards will be given out!



[Facebook Event - Creepy Halloween] Winners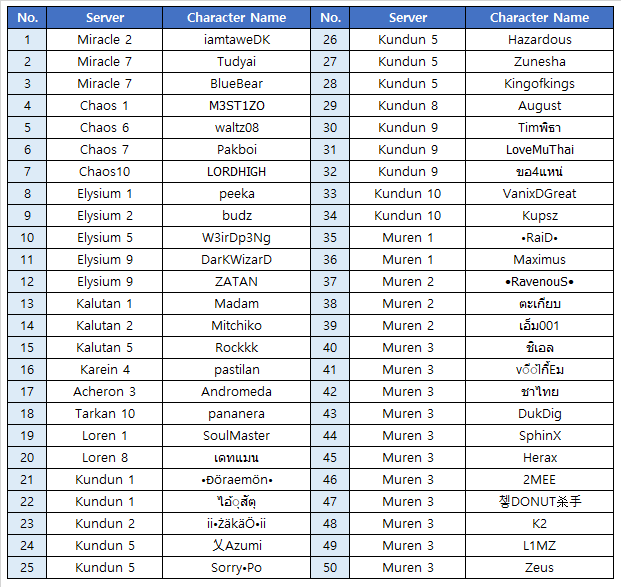 - Event Rewards
Coupon for the following items: Jewel of Soul x 8, Life Stone [Basic] x 6, Attack Stone [Basic] x 6

- Date/Time of Reward Distribution
Date/Time: 6th November (Mon), 2023 after 14:00 (GMT+7)
Distribution Method: The coupon numbers will be distributed sequentially through [Mail] > [Message].



* If you are on the winner list but have not received a coupon, please submit a ticket through customer support within 7 days to make sure you receive the coupon. It is difficult for us to assist you after the 7 day period has passed.




* If you have participated in the event but have deleted the pertaining post, you will be excluded from the winner selection, and will not be able to receive rewards.




* Winners will be drawn based on account, so even if you participate in the event with multiple characters in one account, only one character is eligable to win.




* Event rewards can only be used once per account.


* Please check the FAQ for a guide on how to use coupons (Link: How to use coupons)


* In-game messages sent to [Message] can be viewed by all characters in one account, so please make sure to carefully check the character to be using the coupon.




* Coupons that have already been used cannot be moved to or used by another character.



Thank you.