Notice on a Price Adjustment for certain countries (Coda & Razer)
15.11.21

THE ARCHANGEL CALLS UPON YOU ONCE MORE,
Hello, Warriors!

As we have addressed in the previous notice, in-app purchase prices have been adjusted for certain countries due to tax and price changes for apps and in-app purchases on the App Store.

☞ Notice on a price change in purchases through App Store [Click]
☞ Upcoming tax and price changes for apps and in-app purchases [Click]
☞ Additional information on price adjustments for paid products for specific countries [Click]

Since a price adjustment has been completed in Google Play Store and App Store, Top-up purchase (Coda & Razer) for certain countries will also make an adjustment so that there is no price difference for in-app purchases for each store.
* When purchasing a product with a changed item, VIP points given will also be changed accordingly. Please refer to the notice and make sure there is no inconvenience in purchases.



■ Notice on a Price Adjustment for certain countries (Coda & Razer) ■

- Date: November 15th, 2021
- Target country: Thailand
- Adjusted price / product (VIP points Included):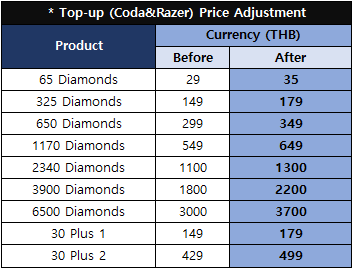 * Depending on the synchronization, the application time of the price change may vary.
Please note that the purchase may proceed with the updated price or the previous price.
* When purchasing a paid product, be sure to check the purchase price before proceeding.
* Refunds are not possible according to the internal policy once you receive the purchased item after the transaction has been successfully completed.


Thank you.