Open the precious ancient treasure! King's Legacy Event
15.09.22



THE ARCHANGEL CALLS UPON YOU ONCE MORE,
Hello, Warriors!

Use the Ancient Key to open King's Legacy that contains precious treasures!

A special chance to obtain various Scepter growth items and make your Scepter to another level!
Don't miss it!

Please check below event description for more details.



* This event is open from September 16th (Fri) 05:00 ~ September 18th (Sun) 04:59 (GMT+7) regardless of the notice registered time.




* Please note that the components differ depending on the server opening date, so please check before using the content.




* This event is applied only to the server which is open for more than 86 days. For servers which are opened for 8 ~ 139 days, Dragon's Treasure Event] will be applied.

☞ [Move to Dragon's Treasure Event notice]







[Open the precious ancient treasure! King's Legacy Event]





# EVENT 1) Open the precious ancient treasure! King's Legacy Event



- Event Period
September 16th (Fri) 05:00 ~ September 18th (Sun) 04:59 in 2022 (GMT+7)

- How to participate in the event and claim rewards:
1. Tap [Compass] > [King's Legacy] icon on the left of the main screen to participate in the event.
2. You can acquire Ancient Keys by completing daily King's Legacy quests or purchasing 'Zen Pouch' using 200 Diamonds.
3. Use Ancient Key to open King's Legacy


* Daily King's Legacy Quests reset every day at 05:00 (game server time).



- Event Description
1. During the event period, when you open King's Legacy, you can acquire items for growing Scepter and special items.
2. You can check the exclusive rewards and number of acquirable limits at the center of King's Legacy screen.
3. Open 8 Treasure Boxes using 1 Ancient Key and you will obtain total 8 various rewards.
4. You can obtain twice the event rewards at a random rate when you open Treasure Boxes.
(e.g., If you open a Treasure Box containing 3 Jewel of Life and the twice rewards buff is applied, you can acquire 6 Jewel of Life.)
5. However, you cannot acquire twice rewards if you obtained the exclusive rewards.

- King's Legacy Rewards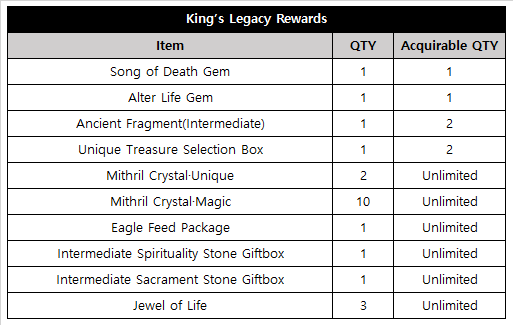 * From [Unique Treasure Selection Chest], you can choose and obtain 1 item among [Silence/Life Gem].




* From [Intermediate Spirituality Stone Giftbox], you can choose and obtain 1 item among [Attack/Defense/Life/Criticality/Recovery/Judgement Stone (Intermediate)].




* From [Intermediate Sacrament Stone Giftbox], you can choose and obtain 1 item among [Life Steal/Soul/Pauldron/Element/Secret Weapon/White Night Sacrament Stone (Intermediate)].




* From [Eagle Feed Package], you can obtain 1 item among the items below at a random rate.




-> Breath of Wind (Advanced) x 5, Silver Oats x 1, Spirit Fountain x 1, Large Pea x 1, Deep Sea Fish Bone x 1, Heart of a Viper x 1, Shellfish x 1




* King's Legacy can be played up to 150 times during the event period.






# EVENT 2) King's Safe that is full of rare and valuable treasures!



- Event Period
September 16th (Fri) 05:00 ~ September 18th (Sun) 04:59 in 2022 (GMT+7)

- Event Description
1. During the event period, you can purchase special products in Compass] > [King's Legacy] > [King's Safe] on the left side of the main screen.
2. [Artifact] will be opened when you obtain [Song of Death Gem] and [Alter Life Gem] Cubic from [King's Legacy].

- Outer Keep Artifacts Rewards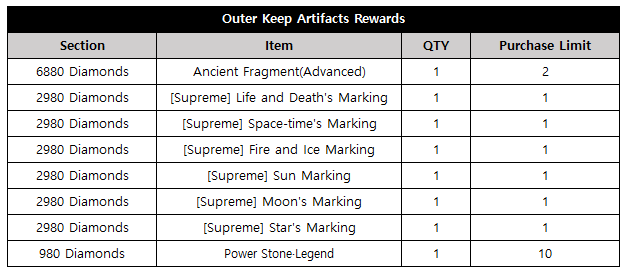 - Inner Keep Artifacts Rewards





* King's Safe can only be purchased during the event period, and it will be difficult to purchase after the event period has passed.




* Each product can be purchased according to the purchase limit, and the purchase limit is different for each package.




* When purchasing a package, please make sure you have enough inventory space since items will be sent to inventory.




* Diamonds used to purchase the package cannot be recovered.






# EVENT 3) Full of rewards! [Special Package]



- Event Period: September 16th (Fri) 05:00 ~ September 18th (Sun) 04:59 in 2022 (GMT+7)
- Event Description: Packages are available in [Compass] > [Special Package] icon on the left of main screen



* Each package can be purchased only once within event period.




* You must purchase the preceding package to purchase the next package.






* Precautions


1. This event is applied to the server which is open for more than 140 days.
2. This event is opened after reaching Lv. 700 (Master Lv. 300).
3. The event period lasted for September 16th (Fri) 05:00 ~ September 18th (Sun) 04:59 in 2022 (GMT+7).
4. Diamonds used in the event cannot be recovered or canceled.
5. The event period, conditions, and rewards are subject to change. If there are changes, we will post details through notice.
6. In case the event is not displayed normally, please close the game completely and re-access the game.





Thank you.